The Core and Edge of Innovation
It's worth repeating that the secret to longevity is the ability to transform, because change is inevitable, while transformation needs to be an intentional effort. More innovation is now happening on the edge of organizations, rather than at the core. You need to pay attention to it.
With the family organization, you have the built-in advantage of your Longevity DNA to act on opportunities others can't afford. Your core probably has a light footprint—perhaps in the family office, in the family holding company, on the protector committee of the family trust, or in some other command center—and can be as mobile as your next family retreat. Plus, you already have an array of different organizations, like operating companies you control or the family office, that you can engage for innovation. So you can link the edge and the core with gears of your own design. You can add gears as needed for leverage. Then, through family investment, you can control the speed and torque required for each innovation to bear fruit, given the resources you provide.
British Theater's Quantum Machine
Let's look at how it works in the entertainment industry. Consider a sector of live performances: British theater, a very good example of a Quantum Machine.
The core of the industry is in The West End—Central London's largest commercial district, comparable to Midtown Manhattan or the 8ème Arrondissement in Paris. Successful West End productions may run for decades. Agatha Christie's "The Mousetrap," the longest-running production in the world, has played in The West End since 1952.
Every summer, new material gets tested by Britain's mainstream professional talent—literally on the Fringe. That's the Edinburgh Festival Fringe, in Scotland, the world's largest arts festival, with its own chairman and board of directors.
In August 2017, there were more than 53,000 Fringe performances of 3,300 shows by established artists and entrepreneurial talent alike. All shows are open-access; there are no juries, no gatekeepers. If you can find a venue and afford to mount a production, the stage is yours. You can "gear in" as you like, deciding what types of resources to invest—and how much—to get the results you want to measure. So, the environment is wide open for innovation.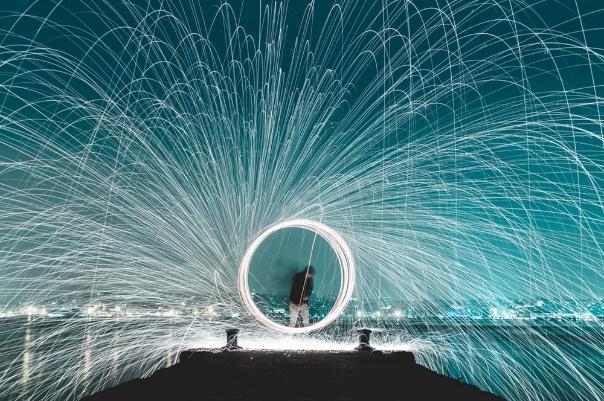 By Ricardo Rocha from www.unsplash.com

The Guardian describes the Edinburgh Fringe as an ecosphere, where cheap feeder venues attract first-time producers and, over the course of several seasons, deliver them up to stages equipped to mount shows with progressively high production values. Venue costs run from free to uber-pricey, and ticket prices are unregulated, so the economics of the Fringe are as chaotic as the atmosphere that lured over two million ticket buyers in 2017. The Fringe is also part of a shared economy and delivers big benefits to stakeholders. It contributed the lion's share of income to the city's net festival economy of GBP 143 million, with a multiplier effect of GBP 279 million in 2015. These numbers also make the Fringe a viable incubator for innovations in other industries, like transportation; hospitality; tourism; and food and beverage.
Fringe theater, like all innovations, is risky business, but concentrating everyone's efforts spreads the risk. Successful work attracts new resources and takes you back to London, where new productions are mounted Off West End and make their way to the West End. That's where famous screen actors often appear in starring roles to boost the box office.
Average production costs in London are small, compared to what it costs to bring shows to Broadway. Eventually, the most successful West End productions, like "Stomp," do end up on Broadway, doubling their market. So, pushing innovative material out from the West End is good business. 2017 was a record-breaking year for London's West End, with 15 million tickets sold and box office receipts of GBP700 million (about $1 billion). On Broadway,13.5 million ticket sales generated $1.6 billion in revenue.
The secret to longevity is the ability to transform because change is inevitable, while transformation needs to be an international effort.
As you can see, the Edinburgh Fringe creates an impact multiplier for successful innovators who can "gear in."
Now let's imagine that you have a rising leader in your family with potential for breakout success in the theater. She wants to test an innovation, and she's ready to mount a live performance or production. She remains open about the details. Here's what you can do with this opportunity to develop your family's Longevity DNA, with potentially quantum benefits for all.
First, you can mobilize the family in support of that entrepreneur and begin to gather professional knowledge and information that may be beyond her scope of expertise about the "known universe." You want to gain an understanding of all the types of resources required for success—including but not limited to financial resources (see below for a detailed discussion about this). Consider direct financial investment, partnerships, or co-investors; how much investment is likely to be required; when it will be needed; and what the investment horizon is likely to look like.
Your family organization can provide timely, focused knowledge and information to your entrepreneur about the quantum opportunity at the Fringe. Don't assume that the innovator has thought of every way to maximize value or impact. Listen closely and ask good questions. Have that discussion at the family ecosphere level, so everybody in the knowledge and information gear can learn from the exercise.
If the rising leader commits to a plan on the Fringe that involves you, it's time to turn the building blocks of your family organization into gears to help them gain certain advantages. Go back to the centerprising process to guide you through this strategic exercise, so you don't overlook key points of leverage with future benefits to the family ecosphere. For every resource you plan to offer, decide if you will "make or buy" the asset to be used by the innovator. Perhaps the family company has a U.K. subsidiary that could help form a production company. Or perhaps this is time to buy property for lease to the rising leader and their network. Scan your Quantum Machine for gears that can be used, or build a new one.
By Vadim Fomenok from unsplash.com

With those gears built to the right specifications, you can calibrate your Quantum Machine to link in effectively with the West End's, through the Fringe ecosystem. Then you can commit family resources strategically, anticipating future runs in London and New York, controlling the speed or torque as events progress. During the ups and downs of the odyssey to come, your unwavering commitment raises performance expectations that will develop your rising leader as a professional.
Permit me to congratulate you on your future success! All you'll have to do then is to convince your innovator to bring the fruits of that success back to the mothership. That's the final step in furthering the Longevity DNA you need.
To start getting this done, you need to set your family enterprise in motion as soon as possible. Do this by adopting and cultivating a new mindset.
Works Cited
Tsai, Florence C. "Getting to Yes with Thirty-Somethings" Phoenix Rising – Leadership, Chapter

2

, pp.

49

–

51

Marsden, S. 2012. "Agatha Christie's The Mousetrap celebrates  its 60th anniversary with star-studded show." The Telegraph. November 18, 2012.

"The 2017 Edinburgh Festival Fringe draws to a close." Press Release, Edinburgh Festival Fringe Society. August 28, 2017. https://www.edfringe.com/learn/news-and-events/2017-fringedraws-to-a-close (accessed October 31, 2018).

Frisby, D. 2018. "The economics of the Edinburgh Fringe."  Chortle. August 11, 2018. https://www.chortle.co.uk/correspondents/2018/08/11/40806/the_economics_of_the_ edinburgh_fringe.

BOP Consulting. 2016. "Edinburgh Festivals 2015 impact study."

https://www.edinburghfestivalcity.com/assets/000/001/964/ Edinburgh_Festivals_-_2015_Impact_Study_Final_Report_original.pdf?1469537463.

Gardner, L. 2017. "'We haven't made a profit for five years': Risky business at Edinburgh Fringe." The Guardian. July 19, 2017.

"STOMP." By Steve McNicholas and Luke Cresswell. Directed and produced by Steve McNicholas and Luke Cresswell. Performance by Luke Cresswell, Theseus Gerard, Fraser Morrison, Carl Smith, Nick Dwyer, David Olrod and Sarah Eddy. Bloomsbury Theatre, London, 1991.

Singh, A. 2015. "West End audiences hit record high thanks to Twitter." The Daily Telegraph. June 23, 2015.

Snow, G. 2018. "West End audiences top 15 million for the first time, SOLT data reveals." The Stage. February 27, 2018.

Cox, G. 2017. "Fast-rising prices drive Broadway to $1.6 billion year." Variety. December 29, 2017.

"About SpaceX." Company website. https://www.spacex.com/ about (accessed January 3, 2019)